Yvonne Perkins Legacy Fund
Our Mission
The mission of the Yvonne Perkins Legacy Fund is to break down barriers and open doors to college degrees, technical training, apprenticeships, and/or employment with Citizens Energy Group or affiliated partners, thus developing a pipeline of talent from the community to the Indiana workforce. Scholarship funds are raised through YPLF's annual golf outing and other fundraising activities.
News & Upcoming Events
Check back soon for information on the upcoming Yvonne Perkins Legacy Fund annual golf outing.
Donate
Coming soon: Donations may soon be accepted online via PayPal.
Honoring A Servant Leader

Perkins, who passed away in 2016, was a servant leader; a distinguished alumna of Indianapolis Public Schools and Butler University; a longtime Citizens Energy Group executive; and a tireless advocate for improving the quality of life in Indianapolis. As a tribute to her memory, the Fund continues impactful workforce development initiatives, enhancing access to meaningful educational and career opportunities while specifically reducing disparities for members of the Black community and other diverse groups including veterans and members of reentry programs.
Uniting Our Community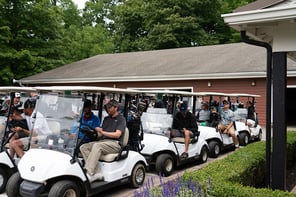 For many years, Citizens Energy Group enjoyed inviting friends and partners to join a yearly golf outing fundraiser in support of educational and workforce development initiatives. In 2022, the Yvonne Perkins Legacy Fund was established as the chief recipient of these fundraising efforts.
The Yvonne Perkins Legacy Fund and our annual golf outings will continue to unite our community around educating our young people, developing equity in the workforce, and growing the talent pool in Marion County. In support of these objectives, the YPLF is excited to offer scholarships for which students can apply.
Scholarship Applicants
Scholarship candidates from local high schools and veteran and re-entry organizations in Indianapolis/Marion County are encouraged to apply. For more information on the Yvonne Perkins Legacy Fund scholarships, click here or contact YPLF@citizensenergygroup.com
Start the scholarship application process by clicking here.
About YPLF
Yvonne Perkins Legacy Fund, Inc is a registered 501(c)(3) organization that provides one-time scholarships. YPLF is funded by donations from individuals and local corporations.
Board of Directors
J.P. Ghio, Board President – Citizens Energy Group
Mark Jacob – Citizens Energy Group
Olivia Hawbaker – Citizens Energy Group
Jennifer Bailey – Citizens Energy Group
Rachel Doba – DB-Engineering
Ben Reed – B.E. Reed, LLC
Amy Smitley - Arcadis
2022 Sponsors
We'd like to thank the sponsors of our 2022 Yvonne Perkins Legacy Foundation golf outing:
| | |
| --- | --- |
| Christopher B. Burke Engineering | Greeley and Hansen |
| Miller-Eads Company | Northpointe Engineering & Surveying, In. |
| B.E. REED | Sexson Mechanical |
| Indiana Reclamation & Excavation | Veterans Engineering & Technical Services |
| CHA Consulting, Inc | Miller Pipeline |
| AECOM | 7NT |
| V3 Companies | Inliner Solutions |
| Powers Engineering | Structured Solutions |
| SAK Construction | Etica Group |
| HNTB | Advanced Drainage Systems, Inc. |
| CMAA - Indiana Chapter | Ferguson Waterworks |
| Bowen Engineering | Harris & Ford LLC |
| DLZ Corporation | ISCO Industries |
| Sunbelt Rentals | Arcadis |
| DB Engineering | Resource International, Inc. |
| Covalen | S-K JV |
| S & K Equipment Company | Reynolds Construction, LLC |
| Black & Veatch | TSW Utility Solutions |