Water Supply for the Future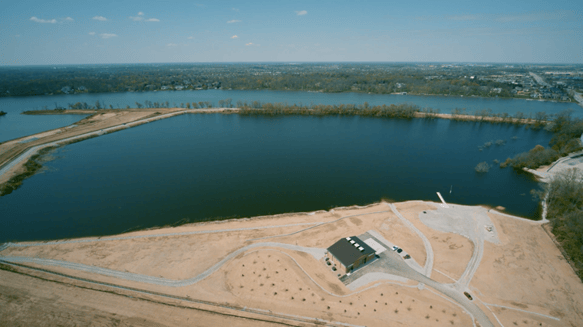 The new Citizens Reservoir, which is located on Olio Road next to Geist Reservoir, provides more than 3 billion gallons of additional water storage capacity through the conversion of a retired 230-foot-deep limestone quarry to a dedicated water storage facility. Citizens Reservoir creates a more resilient water supply for Central Indiana and for all Citizens customers by helping to ensure sufficient water supplies are available during periods of drought and to support continued economic development and growth for future generations. Citizens Reservoir is designed strictly for water storage purposes with no public access for development or recreation.
The 90-acre Citizens Reservoir's depth is nearly equivalent to the height of the Soldiers and Sailors Monument, and the reservoir holds approximately half the volume of our 1,800-acre Geist Reservoir.

Citizens Reservoir FAQ Sheet

Surface Water Supply in Central Indiana

Citizens Reservoir Through the Years

Citizens Reservoir: Just How Big Is Big