Maintaining Your Gas Pipelines
Citizens Energy Group is responsible for the installation and maintenance for all mains, services, regulators, and meters that deliver the natural gas to the home.
The customer will be responsible for installation, maintenance, and repairs of all gas lines from the meter to the location of the natural gas appliance(s). This includes any line that is installed above or below the ground, including to gas lights, grills, and pool heaters.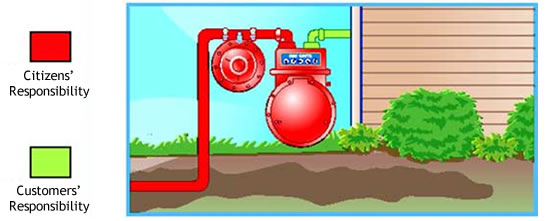 Moving Natural Gas Into the Home
Natural gas runs from the main into a home or business through a service line. Today, this line is likely to be a small-diameter plastic line an inch or less in diameter, with gas flowing at a pressure range of over 60 pounds to as low as 1/4 pound. When the gas passes through a customer's gas meter, it becomes the property of the customer. Once inside the home, gas travels to equipment and appliances through piping installed by the home-builder and owned by the customer, who is responsible for its upkeep.
When the gas reaches a customer's meter, it passes through another regulator to reduce its pressure to under 1/4 pound, if this is necessary. (Some services lines carry gas that is already at very low pressure.) This is the normal pressure for natural gas within a household piping system, and is less than the pressure created by a child blowing bubbles through a straw in a glass of milk. When a gas furnace or stove is turned on, the gas pressure is slightly higher than the air pressure, so the gas flows out of the burner and ignites in its familiar clean blue flame.
Installation Instructions and Technical Bulletins
The resources below provide current requirements bonding, piping, etc.

DiamondBack Bonding

GasTite Bonding

GasTite Grounding

TracPipe Bonding

CSST Meter Connection

Wardflex Bonding