Water Service Improper Condition Notice
The Customer must hire a licensed and bonded plumber to repair the improper condition noted on the blue tag. Once the repairs have been completed, the Customer must sign and mail back the blue tag which states that the required repairs have been completed in compliance with Citizens Water Standards.
Please retain a copy of this service tag for recordkeeping. If the improper condition resulted in the Customer temporarily losing water service, please contact Citizens' Natural Gas and Water Service Tagline at 317-927-6009 and press option 1. Press Option 3 if you have technical questions regarding these improper condition and a Citizens' representative will get back to you shortly regarding your questions.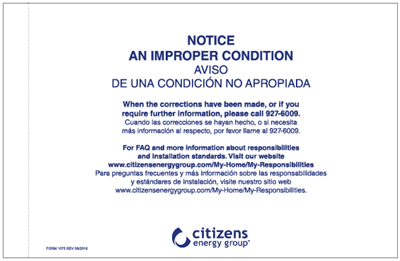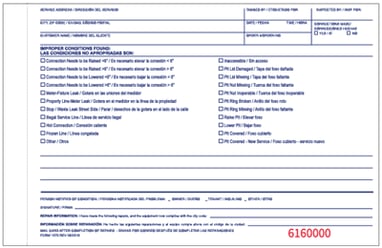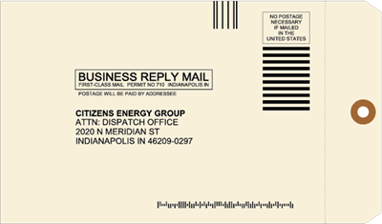 Water Meter Connection Repair Guide

Local Vendors Resources
---
Citizens Energy Group Resources
Customer Service Department (Residential):
317-924-3311
Customer Service Department (Rentals and Commercial):
317-924-3321
New Service Permitting:
317-927-4444
Natural Gas and Water Service Technical Question Tagline:
317-927-6009
Utility Shield:
1-800-581-8729