Natural Gas Furnaces
Natural gas furnaces provide warm, comfortable and efficient heat for your home. Today's gas furnaces are now up to 98 percent efficient, thus providing substantial savings that will soon pay for the cost of the unit.

Natural Gas Furnace Guide
Natural Gas Water Heater
Natural gas water heaters heat water twice as fast as electric, so you're less likely to run out of hot water. If you're thinking of building a new home with a natural gas water heater or switching to natural gas in an existing home, Citizens can help. Just call 317-927-4328 and a Citizens representative can tell you how to get connected with natural gas and provide you with a list of water heating contractors or resellers.

Natural Gas Water Heater Guide
Natural Gas Oven/Range
Natural gas ovens and ranges provide instant and consistent heat for all your cooking needs, so it's no wonder 9-out-of-10 professional chefs choose natural gas.

Natural Gas Oven/Range Guide
Natural Gas Clothes Dryers
Natural gas clothes dryers are popular with consumers because they dry clothes faster and for less money than electric dryers.

Natural Gas Clothes Dryer Guide
Natural Gas Fireplaces
With a natural gas fireplace, you'll never carry wood again on a freezing winter night. Gas logs and fireplaces are convenient with an instant on/off switch and they're economical compared to the cost of burning wood - with no messy ashes, chimney buildup, dangerous sparks or harmful emissions that pollute the environment. Not to mention, natural gas fires are beautifully realistic and add value to your home. Find out how easy it is to connect with natural gas by calling 317-927-4328.

Natural Gas Fireplace Guide
Natural Gas Grills
Unlike propane or charcoal, your natural gas supply is always available and doesn't run out in the middle of the family barbeque. There's no awkward tank to refill and once a natural gas grill is lit, there's no waiting for charcoal to heat up - natural gas grills heat up fast. Grilling with natural gas means you get the outdoor flavor without the mess or the hassle of other types of grills. Find out how easy it is to connect a natural gas grill in your backyard by calling 317-927-4328.
Natural Gas Garage Heaters
A natural gas garage heater can make routine car maintenance or weekend projects more comfortable during cold weather months. They are wall-mounted, with a thermostat control or manual heat level selector controls the heat output. A single unit is able to warm up to 550 square feet (equivalent to a 2 car garage). Since natural gas garage heaters do not require electricity to operate, they can operate during power failures. Models come in two designs: a "blue flame" design that warms the air in the garage, and infrared, which warms the floor and objects before heating the surrounding air.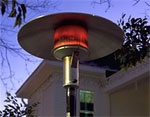 Natural Gas Patio Heaters
Enjoy your outdoor living space longer by installing a natural gas patio heater. A natural gas patio heater can warm your recreation and entertainment areas on those chilly early mornings and late evenings. Natural gas patio heaters use infrared heating elements, so you won't lose heat to the surrounding air.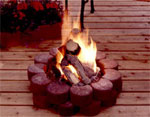 Natural Gas Fire Pits
Natural gas fire pits provide the atmosphere of a cozy campfire - in a city or suburb. These units are easy to install, and provide year-round outdoor entertainment. They are also better for the environment because they do not burn wood, which emits soot into the air. Natural gas fire pits have high-input burners that provide instant heat to the surrounding area. They are safe to install and operate on a wooden deck because there are no glowing embers. Simple to turn on and off, they give the warmth and atmosphere of a campfire, with the convenience of cleaner burning natural gas.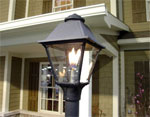 Natural Gas Lights
Benefits of Natural Gas Exterior Lighting:
Natural gas lights give a beautiful, warm, romantic glow.
Natural gas lights supply light when there is no electricity.
Natural gas lights won't attract insects.
Exterior lighting can highlight and enhance landscaping.