At more than 200-feet below ground, the DigIndy Tunnel System will store more than 250 million gallons of sewage during and after wet weather, and then slowly release the sewage to the Southport Advanced Wastewater Treatment Plant when capacity becomes available. When the project is complete, sewage overflows into Indiana waterways will be significantly reduced, and water quality will be improved.
The tunnel system will be built in bedrock below the city using a piece of specialized equipment called a tunnel boring machine. After the machine bores the tunnel, a concrete tunnel lining will be installed. The lining will help keep groundwater out and keep sewage in the tunnel. By using deep tunnel technology, disturbances to neighborhoods along the project route will be reduced.
The Deep Rock Tunnel Connector serves as the first phase of the DigIndy Tunnel System. Improvements to the first phase resulted in modifications to later project phases and revealed the potential for significant cost savings. The Deep Rock Tunnel will extend about 8 miles from the Southport Advanced Wastewater Treatment Plant in southern Marion County to the 1700 block of West Street in downtown Indianapolis.
The Fall Creek and White River Tunnels will extend approximately 10 miles, beginning near the Indiana State Fairgrounds on the north, running parallel to Fall Creek and White River, and ending near White River Parkway East Drive and West Street on the south side of Indianapolis. The exact route of the tunnel will be determined during design of the project and will continue to be refined to ensure long-term environmental and economic benefits.

By the year 2025, Citizens plans to invest nearly $4 billion in its water and wastewater (sewer) systems.
Timeline of Key Consent Decree Dates

Anticipated CSO Reduction to Waterways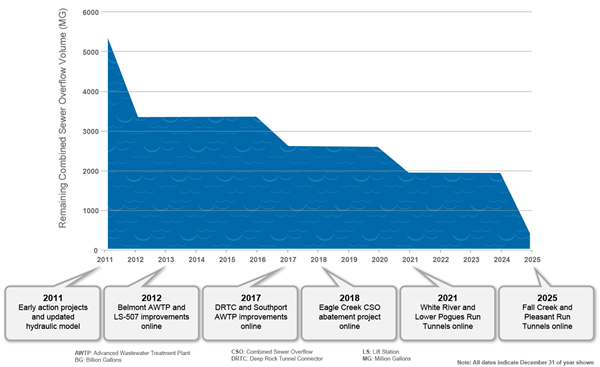 Interactive Tunnel System Map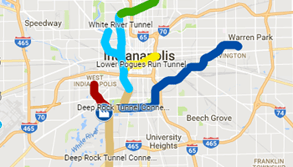 Click on the tunnel segments for more information.
In the News