H2O to Go is a mobile water source created by Citizens Energy Group in partnership with the University of Indianapolis to promote conservation and sustainability.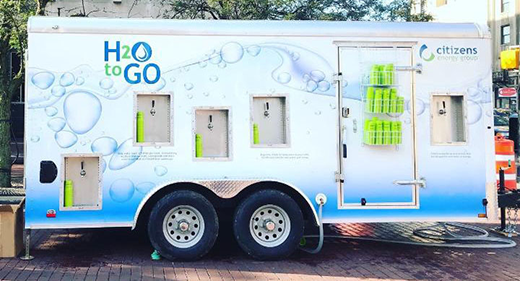 From the Community for the Community
In 2014, an environmentally conscious member of the community approached Citizens Energy Group (Citizens) with a challenge: What could we (aka "The Water Company") do about all the bottled water, and thus recyclables, that local event organizers inevitably invite into their venues for participants to enjoy? That challenge was accepted, and although it took some time to get off the ground, the research and development process and partnership that led to the creation of H2O to Go came together perfectly.
The overarching goal of the project was to create a mobile water source that could be used to educate the public on topics of water conservation and sustainability, and support Citizens' philanthropic values.
In 2015, Citizens embarked on an effort to engage with local colleges/universities and industry partners to foster greater student engagement through collaboration on real-world projects. The resulting initiative, Partnership for Excellence in Research and Learning (PERL), seeks to support efforts to fulfill the workforce needs of Citizens and its supporting businesses; create more professional development opportunities for students; and improve information exchange between business and academia to optimize solutions to today's industry challenges.
A Partnership for Education
A PERL partnership with the University of Indianapolis provided the opportunity for students and faculty of the R.B. Annis School of Engineering to select what was then known as the "Water Wagon" project as their semester-long focus and inaugural PERL project. Beginning in 2017, a group of five then-sophomore students started the research process to determine the feasibility of the project based on the scope provided. By the end of the semester, not only did the students determine the project was feasible, but they also built a miniature model to test it before recommending the full-scale investment.
In 2018, a new team of four sophomores took the research and designs the previous team had worked on alongside a cross-functional team from Citizens to create what is now known as H2O to Go. * In its first month of availability, the H2O to Go has provided access to water to nearly 5,000 thirsty Hoosiers.
*H2O to Go was the name selected by the community through voting on a social media contest conducted by Citizens prior to the unveiling of the mobile water source.