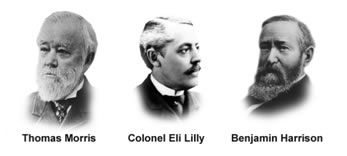 Citizens Energy Group was founded in 1887 as Consumers Gas Trust at a time when the city began to use natural gas drawn from nearby gas production fields. City leaders such as Thomas Morris, Colonel Eli Lilly and Benjamin Harrison created a structure known as a Public Charitable Trust to protect the gas company assets from takeover by monopolies like Standard Oil and from political patronage. Consumers Gas Trust became Citizens Gas in 1906 when the city purchased the majority of the company's assets. It became Citizens Gas & Coke Utility in 1935 when the City purchased all of the company's assets. In 2008, the company was renamed Citizens Energy Group to reflect recent strategic changes in the company including closure of Indianapolis Coke. As long as it fulfills its mission, Citizens cannot be sold. The legal operating name for the Trust is The Board of Directors for Utilities of the Department of Public Utilities of the City of Indianapolis ("The Board").
In 2000, Citizens acquired the nation's second largest steam and chilled water district, from Indianapolis Power & Light Company (IPL).

In 2005, Citizens acquired the Westfield Gas system serving Westfield, Indiana.
In 2007, Citizens discontinued operations of the Manufacturing Division consisting of the coke oven batteries and related facilities.
On August 26, 2011 Citizens and the City of Indianapolis completed the transfer of the community's water and wastewater utilities to Citizens.

In 2014, Citizens acquired the water and wastewater systems of the City of Westfield. The system now operates with the previously acquired gas system as Citizens Westfield.